The best opportunity for newcomers to get to know the Gundeli district and its people is the "Gundeli Walk" every autumn. The neighborhood association NQVG launched this activity in 2017 and developed it over the years in cooperation with many other local associations.
Die beste Gelegenheit für Neuzugezogene, das Gundeli und seine Menschen kennenzulernen, ist der Gundeli-Spaziergang jeden Herbst. Dieses Angebot hat der Quartierverein NQVG 2017 ins Leben gerufen und über die Jahre zusammen mit vielen anderen lokalen Vereinen weiterentwickelt.
Gundeli Walk for Newcomers ¦ October 17th 2020
A highlight in this Corona autumn: Four groups of newcomers - guided by members of local associations - to stroll through Gundeli and to learn a lot about this lively district. Look at the photo gallery (comments in German).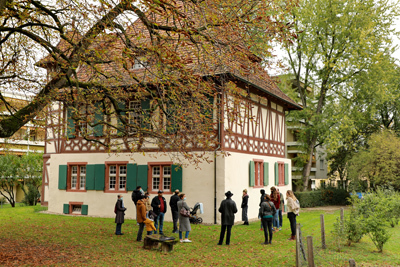 Commented photo gallery / Photos by František Matouš